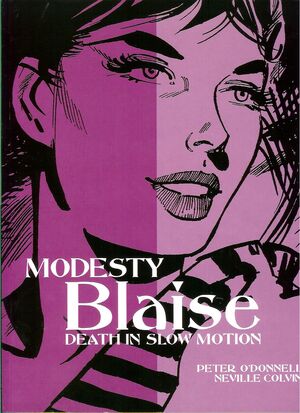 Peter O'Donnell was born in Lewsham, London, on 11 April 1920, the son of a crime journalist, and started writing professionally at the age of 16, selling stories to The Scout, The Strand and 20 Story Magazine, among others. A year later he joined the Amalgamated Press, where he wrote scripts for Butterfly, Comic Cuts and Illustrated Chips.
He joined the Royal Signals Corps as an NCO in 1938, serving in Northern Ireland, France, Persia, Syria, Egypt, the Western Desert, Italy and Greece through the Second World War. After the war he started writing comic strips, including the Daily Express' adaptation of Ian Fleming's James Bond novel Dr. No, drawn by John McLusky. He filled in when the regular writer of Belinda in the Daily Mirror was ill, and went on to script Garth, drawn by Steve Dowling, from 1953 to 1966, and Romeo Brown, drawn by Jim Holdaway, from 1956 to 1962, for the same paper. He also wrote For Better or Worse for the Daily Herald and Tug Transom and Eve for the Daily Sketch.
His most famous creation, sexy and resourceful action heroine Modesty Blaise, was commissioned for the Daily Express and inspired by a self-possessed young refugee girl he had met in Persia during the war. However, the Express balked at Modesty's criminal background, and O'Donnell took the strip to the London Evening Standard, where it launched in 1963, drawn by Holdaway until his death in 1970, and thereafter by Enrique Badía Romero, John M. Burns, Patrick Wright and Neville Colvin until it ended in 2001. O'Donnell wrote a screenplay for a 1966 film adaptation of Modesty Blaise, although it was heavily rewritten by others. He published a novel based on his original script, which was successful enough to spawn ten further novels and two collections of short stories.
He published gothic romance novels under the name Madeleine Brent. His play, Mr. Fothergill's Murder, was performed in the 1980s. He also wrote for TV, including a popular serial, Take a Pair of Private Eyes, for the BBC in 1966, and film, including The Vengeance of She in 1968.
In his later years he suffered from Parkinson's Disease and a stroke. He died at his home in Brighton on 3 May 2010, aged 90, survived by his widow Constance (née Green, whom he married in 1940), their two daughters Jill and Janet, three grandchildren and four great grandchildren.
References
[
]
Online reference
[
]
External links
[
]