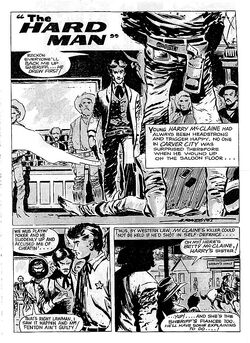 Rafael Aura León (born 22 December 1939, died 24 June 1993)[1] was a Spanish artist who joined the Spanish agency Selecciones Illustradas in 1959,[1] through which he worked in British comics in the 1960s, drawing westerns for Lone Star, war stories for Commando, Air Ace Picture Library, Combat and Conflict, romance stories for Romance in Pictures,[2] and science fiction stories for Space Ace.[3] He also worked for Warren Publishing in the USA.[4] He continued to work with Selecciones Illustradas after Warren's collapse, writing and drawing a series of short science fiction stories in 1982-84, and drawing the series Viaje al Infierno which was published in the Spanish version of Creepy. After its publication in 1984, he left both S.I. and the comics field as well. Suffering from depression, he took his own life in 1993.[1]
References
Edit
↑ 1.0 1.1 1.2 Rafael Auraleón on Lambiek Comiclopedia
↑ Auraleon en UK, Deskartes Mil, 28 August 2009
↑ Alan Clark, Dictionary of British Comic Artists, Writers and Editors, The British Library, 1998, p. 5
↑ David A. Roach and Jon B. Cooke, The Warren Companion, TwoMorrows Publishing, 2001
Online reference
Edit
Community content is available under
CC-BY-SA
unless otherwise noted.