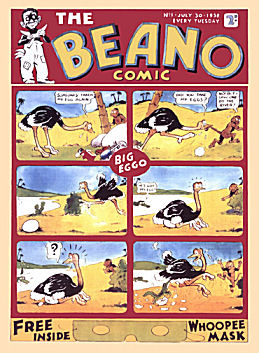 Reginald Arthur Lay Carter was born in Southwold, Blything, East Suffolk, on 6 December 1886. As a young man he contributed to various humour magazines and drew comic postcards. By 1907 he was drawing for Ally Sloper's Half Holiday and other comic papers. He started working for the Amalgamated Press in 1920, drawing "The Artful Antics of Babe Hardy" for Kinema Comic, then "The 'Stonishing Stunts of Ernie Mayne" in Merry and Bright in 1921. In 1922 he started working for The Fleetway Press, a publisher founded by former AP editor Harold Mansfield. Strips he drew for their comics include "Wireless Willie and Bertie Broadcast" in Monster Comic (1922), "Nathaniel Nodd" in Golden Penny (1923) and "Jip, Jumbo and Jock" in Monster Comic (1928). The Fleetway Press was bought out by the AP in 1928, and Carter moved on, working for Mickey Mouse Weekly ("Troubles of Father", "Sea Shanties"), Target Publications in Bath and C. A Ransom in London. When DC Thomson launched The Beano in 1937, Carter drew the cover feature, "Big Eggo" until 1949, and also contributed "Freddie Flipperfeet" (1947) and "Peter Penguin" (1948). He died in Cuckfield, Sussex, on 24 April 1949.
References
Edit
Alan Clarke, Dictionary of British Comic Artists, Writers and Editors, The British Library, 1998, pp. 34-36
Online reference
Edit
Community content is available under
CC-BY-SA
unless otherwise noted.