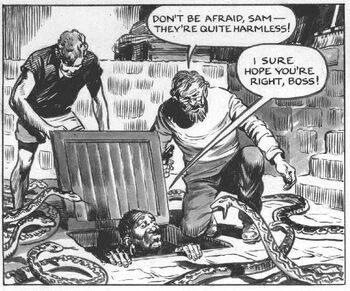 Richard Edward Jennings was born in Hampstead, London, on 20 May 1921, son of Richard J. Jennings and his wife Bertha H., née Ovenden. He won a free scholarship to the Central School of Arts in 1937, but his studies were interrupted by the outbreak of the Second World War. He served in the Air/Sea Rescue service of the RAF in the Middle East. He took a variety of jobs after demobilisation, including fishing and decorating pubs and hotels for a brewery in Devon, before moving to London in 1950 and getting work on the newly launched Eagle.
He drew the advertising strip "Tommy Walls" for the first three years, eventually writing the scripts as well. In 1953 he and writer Guy Morgan created naval strip "Storm Nelson". Morgan dropped out early, and Jennings wrote and drew the series until it ended in 1962. He drew a few other strips for the Eagle, including "Seeing Stars" (1954) and "Island of Fire" (1962), and scripted "The Lost World", adapted from the novel by Sir Arthur Conan Doyle, for artist Martin Aitchison. He also worked for the Junior Mirror ("The Fighting Tomahawks", 1954), Swift ("The Further Adventures of Robinson Crusoe", 1957-58), TV Century 21 ("The Daleks") and Wham! ("Tornado Jones", 1965), as well as drawing the advertising strip "Adventures of the Bovril Brigade" (1961) alongside Frank Hampson.
He left comics in the late 1960s. He spent 18 months as a long-distance lorry driver, then spent some time travelling the Yorkshire Dales painting pub signs and portraits. He retired to Cornwall, where he continued painting and studied Eastern philosophies. He died there of pneumonia on 19 January 1997, aged 75.
References
[
]
Alan Clarke, Dictionary of British Comic Artists, Writers and Editors, The British Library, 1998, p. 85
Steve Holland, Richard Jennings, Bear Alley, 17 November 2006
Online reference
[
]