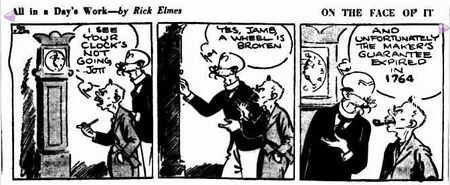 Rick Elmes, cartoonist, illustrator and painter
Apparently born in Australia.[1]
Had moved to London by 1926, when he illustrated London Nights: Studies and Sketches of London at Night by Stephen Graham.[2] Also illustrated Twice Round the London Clock & More London Nights by the same author in 1933.[3][4]
Illustration for Illustrated London News, 1927.[5]
Cartoons for Punch, 1933.[6]
Drew daily strip All in a Day's Work in the Daily Herald,[7] which was syndicated to Australian newspapers from the mid-30s on.[1][8][9][10] Lasted until at least 1945.
Son Thomas Oliver Elmes born in Smirna House, White Notley, Essex, 1934.[11] His mother's maiden name was Holmes.[12] Oliver was an artist in his own right and died in 2011.
Drew Bobby Bear in Mickey Mouse Weekly (1936) and Happy Families Comic (1938).[13]
References
Edit
↑ Dancing Sailors, The Greenwich Phantom, 31 July 2008
↑ Denis Gifford, The History of the British Newspaper Comic Strip, Shire Publications, 1971, pp. 35
↑ *Alan Clark, Dictionary of British Comic Artists, Writers and Editors, The British Library, 1998, p. 54
Community content is available under
CC-BY-SA
unless otherwise noted.