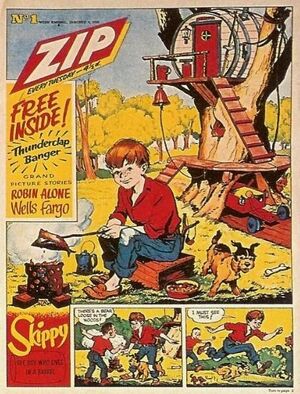 Robert Robertson MacGillivray was born in Dundee in on 2 September 1913. A versatile artist, he drew for DC Thomson, the Amalgamated Press and other publishers, working in humour, boys' adventure and girls' comics in various styles.
Strips he drew include "The Tickler Twins in Wonderland" for The Magic Comic; "Dirty Dick" (1942) for The Dandy; "Sexton Blake" (1949-55) for Knock-Out; "Mighty Joe Young" (1949) and "Moko the Baby Monkey" (1950) for The Sun; "Buck Jones" (1950) for Cowboy Comics Library; "Lucky's Living Doll" for School Friend; "Skippy" for Zip; "Skating Knights" (1963) for Diana; "Fay Fearless" (1974) for Mandy; and "Trixie's Treasure Chest" for Debbie.
He died in Bromley, Kent, in July 1986.
Alan Clark, Dictionary of British Comic Artists, Writers and Editors, The British Library, 1998, pp. 101-102
Community content is available under
CC-BY-SA
unless otherwise noted.