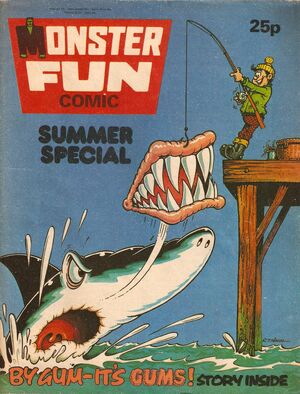 Robert Thomas Nixon was born in Southbank, Middlesborough, on 7 July 1939, the fifth of six children of a steelworker. His artistic talents were recognised by his teachers, and in 1955, at the age of 16, he won a scholarship to Middlesborough Art College, although he left early following his father's death, and took a job in the art department of a printing firm where he was apprenticed as a lithographic artist.
About 1963 he started submitting work to DC Thomson's The Beano, and by 1965 he had enough work to give up his day job and go full time as a cartoonist, working on strips like "Little Plum", "Roger the Dodger", "Lord Snooty" and "Grandpa". He also drew "Captain Cutler and his Butler" and "Esky Mo" for Sparky".
In 1972 he moved to IPC, where he was allowed to sign his work. His first strip was "Hire a Horror" for Cor!!. He also worked for Shiver and Shake, Whizzer and Chips and Jackpot, drawing "Ivor Lott and Tony Broke", "Lolly Pop", "King Arthur and the Frights of the Round Table" (Whoopee!, 1974), "Elephant on the Run" (Cheeky Weekly, 1978-80), "Family Trees", and "The 12½p Buytonic Boy" (Krazy, 1976-). His work on Monster Fun, including "Frankie Stein", "Kid Kong" and "Gums", was particularly notable. He produced many painted covers for summer specials and annuals at IPC in the mid-to-late 1970s. He also drew two newspaper strips, The Gems (1977-) and "Parkie the Park Keeper (1982-) for the Middlesborough Evening Gazette.
In 1985 he returned to DC Thomson, drawing "Korky the Cat" for The Dandy, "Beryl the Peril" for The Topper, and "Lord Snooty" and "Roger the Dodger", and creating "Ivy the Terrible" (1986-) for The Beano. He was still drawing for The Beano in 1996. He also took commercial assignments, drawing jigsaw puzzles, Easter egg packaging and greetings cards, and illustrated books by Giles Brandreth.
He died on 22 October 2002, survived by his wife Rita and their four children.
References
[
]
RTN Designs, Official Robert Nixon website
Paul Gravett, Obituary: Robert Nixon, The Guardian, 7 November 2002
Alan Clark, Dictionary of British Comic Artists, Writers and Editors, The British Library, 1998, pp. 120-121
Online reference
[
]