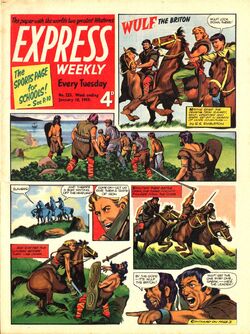 Ronald Sydney Embleton (b. London, 6 October 1930; d. 13 February 1988) drew from a young age, winning a national poster competition aged 12, and studied at the South East Essex Technical College and School of Art. He joined a commercial art studio and was beginning to establish himself as a freelance comics artist when he turned 18 and was called up for national service.
He returned to freelancing in 1950, seeting up a studio with his schoolfriend Terry Patrick and James Bleach. They worked for small publishers like Scion, TV Boatrdman, Norman Light, DCMT and others, and Embleton started working for Amalgamated Press' Comet, Comic Cuts, Cowboy Comics and Super Detective Library.
He drew "Rogers' Rangers" (1953), "Strongbow the Mighty" (1954-57) and "Don o' the Drums" (1957) for Mickey Mouse Weekly, and "Wulf the Briton" (1956-60) for Express Weekly, on which he developed his colour technique and later wrote scripts. Later strips he worked on included "Biggles" (1960) for TV Express, "Wrath of the Gods" (1963) for Boy's World, and "Johnny Frog" (1964) for the Eagle. His work on "Stingray" for TV Century 21, led Gerry Anderson to invite him to provide art for the opening credits of his new show, Captain Scarlet and the Mysterons.
He also illustrated numerous series for Look and Learn in the 1960s and early 70s, and filled in for Don Lawrence on one episode of The Trigan Empire. From 1971 he provided illustrations for World of Wonder. He also drew for nursery titles like Playhour, Once Upon a Time and The Storyteller. In the late 70s he was commissioned to draw 43 characters from Dickens for This England magazine.
In his later career he drew full colour comic strips for Penthouse magazine - "Oh, Wicked Wanda" (1973-80), written by Frederic Mullally, and "Sweet Chastity", written by Bob Guccione. He also drew the fishing strip Terry and Son, written by Conrad Frost, in the Daily Express in 1984-88. He died of a heart attack in 1957.
External links
[
]
References
[
]
Online reference
[
]