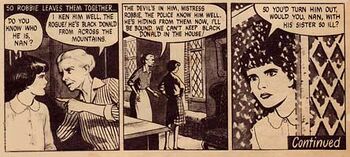 Roy Newby was born in Northumberland in 1912 and grew up in London, the only child of music hall and variety performers. He was trained at Bolt Court, later the London College of Printing, and became a commercial artist, joining his first studio aged only 15. During the 1930s he illustrated catalogues, advertisements, posters and magazines. He served in the Royal Engineers in the Second World War, but all his early work was destroyed in a bombing raid.
After the war, now married to Marjorie, a nurse he met while recuperating in hospital after a motorcycle accident, and with two young children, he moved to Putney and drew comics freelance from the front room of his house, while also painting in oils and watercolours. He drew "Robbie of Red Hall" in Girl for many years, and later worked for romance comics like Valentine. He retired from commercial work in the 70s and concentrated on his painting.
Marjorie died after a long illness in 1975, and Roy later married Marcella, also an artist, and they lived together in Barnes until she died. In 2009, his health failing, Roy moved into a nursing home in Sussex, where he died in August 2011, aged almost 99. Shortly before he died, thirty of his images mainly from comics, digitally enhanced to make them big enough to see, were on show as part of the Vintage Festival at the Royal Festival Hall.
External links
[
]
References
[
]
Online reference
[
]