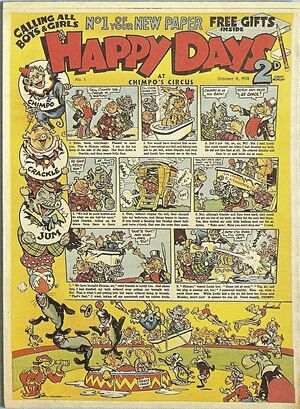 Royston Warner Wilson was born in Kettering, Northamptonshire, on 9 July 1900, son of Alfred Amos Wilson, a draper, and his wife Jessie Eveline, née Cooper. The family later moved to Norwich. He won a painting competition at the age of 12, studied at the Norwich School of Art, and was apprenticed to a furniture designer.
He worked as a junior draughtsman on the Air Board Staff during the First World War, until 1918, a day before the armistice, when he was called up. He served in the military until 1920. That year he met comic artist Don Newhouse and became his assistant. Strips they worked on together include "Chips Comic Cinema" (Illustrated Chips, 1921), "Funny Films" (Jolly Jester, 1922), "Reel Comedies" (Funny Wonder, 1922), "Basil and Bert" (Jester, 1923-40), "Three Jolly Sailor Boys" (Comic Cuts, 1926), "The Happy Family" (Larks, 1927), and "Lizzie and her Comical Courtiers" (Jester, 1931).
He married Gertude Wilson in 1924. In the late 1920s Newhouse introduced him to Amalgamated Press editor Leonard Stroud, and he started getting work under his own name, beginning with "Steve and Stumpy" (1930-32) and "Molly and Mick" (1931-34) for Butterfly. Gertrude also worked for Stroud as a writer.
Wilson left Newhouse's employ in 1933. In the 1930s he became one of the Amalgamated Press' leading humour artists, drawing for Jester ("Pop and Mick", 1931-32), Merry and Bright ("Toppy", 1932-35; "Nelson Twigg", 1933-35), Crackers ("Happy Harry and Sister Sue", 1933-41), Jingles (1934), Sparkler ("Good Knight Gilbert, 1935; "Lieutenant Daring and Jolly Roger", 1935-37); "Buster, Linda and Pip", 1937-39), Jolly ("Jack Sprat and Tubby Tadpole", 1935-37; "Twiddle and Knob", 1935; "The Captain, the Kid and the Cook", 1936-37), Golden (1937), Happy Days (cover feature "Chimpo's Circus", which he was allowed to sign, 1938-39) and Radio Fun ("George the Jolly Gee-Gee", 1938-39).
He served in the Home Guard during the Second World War. From the 1940s on he worked for The Wonder ("Private Muggins", based on his Home Guard experience, 1944-46; "Dodger and Diddle", 1949-53)), Radio Fun ("Stymie and his Magic Wishbone"), Tip Top ("Happy Andy", 1939-54; "Sunnyside School", 1949-54)), The Wonder ("Hook, Line and Sinker", 1949-53), TV Fun ("Hoofer the Tee-Vee Gee-Gee", 1953), Film Fun, June ("Cloris and Claire", 1961-64), Buster ("All at Sea", 1961-64) and Valiant ("Percy the Problem Child", 1962-64). He also drew a children's feature for Woman's Own 1947 to 1965. His last strip was "Morcambe and Wise" for Buster. He died of lung cancer in Surrey in June 1965, leaving his widow and two daughters.
References
[
]
Alan Clarke, Dictionary of British Comic Artists, Writers and Editors, The British Library, 1998, pp. 190-191
Denis Gifford, Encyclopedia of Comic Characters, Longman, 1987
Online reference
[
]