Jurassic World: Dominion Dominates Fandom Wikis - The Loop
Play Sound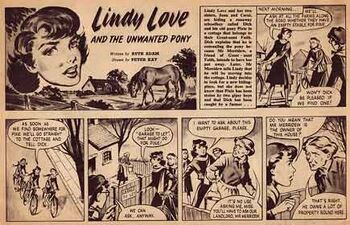 Ruth Augusta Adam, née King (1907-1977), feminist writer, was born on 14 December 1907 in Arnold, Nottinghamshire, daughter of a Church of England vicar. She attended St Elphin's girls' boarding school in Darly Dale, Derbyshire, from 1920 to 1925, before becoming a teacher in elementary schools in impoverished mining areas of Nottinghamshire. In 1932 she married Kenneth Adam, a journalist on the Manchester Guardian and later director of BBC television. They had four children.
Her novel I'm Not Complaining (1938) depicted women's lives in the Depression from the point of view of an unmarried female teacher. She worked for the Ministry of Information during the Second World War, and from 1944 to 1976 she wrote the women's page for the Church of England Newspaper, which expressed her position as a Christian socialist feminist. One such article, "Comics and Shockers" in 1948, put her firmly on the same page as Marcus Morris, whose religious ideals and concerns about the influence of American comics led him to launch Eagle in 1950, and Girl the following year. Adam wrote strips for Girl, in which she attempted to counteract the passiveness of many girls' heroines by introducing young female characters who were resourceful, brave and clever. Her best-known strip was "Susan of St. Bride's" (1954-61), about a student nurse, drawn by Peter Kay, Ray Bailey and Philip Townsend, who also featured in spin-off novels written by Adam. She also wrote "Lindy Love" (1954-55), about a girl just out of school who has to care for her family, drawn by Peter Kay.
In 1955 she and Peggy Jay founded the Fisher Group, a think-tank advising governments on social policy. She wrote numerous novels on social issues, biographies, radio plays and scripts for Woman's Hour. At the end of her life she wrote A Woman's Place: 1910-1975, a social history of women in the 20th century. She died in London on 3 February 1977.
References
[
]
Sybil Oldfield, 'Adam , Ruth Augusta (1907–1977)', Oxford Dictionary of National Biography, Oxford University Press, 2004, accessed 27 Nov 2010
Shu-fen Tsai, "Girlhood Modified in "Susan of St. Brides" in Girl magazine (1954-1961) (pdf), Dong Hwa Journal of Humanistic Studies 2, July 2000, pp. 259-272
Comic Creator: Peter Kay, Lambiek Comiclopedia
Online reference
[
]
Wikia: Women in Comics | Albion