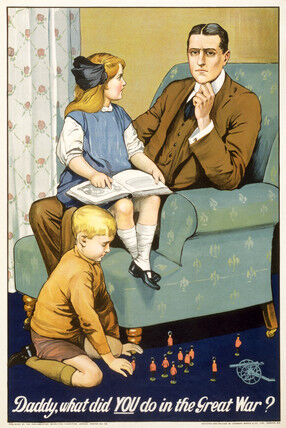 Savile Lumley was born in the first quarter of 1876 in Marylebone, London, son of Henry Robert Lumley, a newspaper proprietor, and his wife Blanche.
His first published artwork was in the magazine Sketchy Bits in the 1890s, while studying at the Royal Academy School and sharing a studio in St John's Wood with George Stampa.
He drew for numerous other magazines, including the Tatler and cartoons for The Humorist, and designed posters for the railways. He married Muriel Harries in 1905.
In 1915 he painted the famous "Daddy, what did you do in the Great War?" recruiting poster. In the 1920s and 30s he illustrated children's books, and contributed to numerous children's weeklies, including the Boy's Own Paper, The Champion annual, Chatterbox, Chums, Little Folk, Nelson Lee Library, Printer's Pie, Scout, School Friend annual, Schoolgirl's Own annual and Young England. From 1933 he drew picture stories for The Boys' and Girls' Daily Mail.
He died in Surrey in the second quarter of 1960, aged 84.
References
[
]
Alan Clark, Dictionary of British Comic Artists, Writers and Editors, The British Library, 1998, p. 97
Steve Holland, Savile Lumley, Bear Alley, 22 February 2009
Savile Lumley at Spartacus Educational