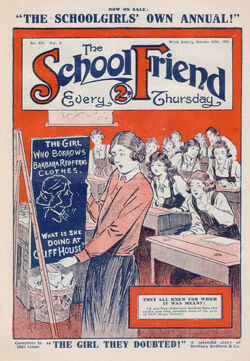 The School Friend was published by Amalgamated Press as a story paper for girls from 1919 to 1929, when it was renamed The Schoolgirl, and continued until 1940.
School Friend was revived as a comic in 1950, publishing a mixture of comic strips and prose stories, and was published by AP, then Fleetway and IPC.. It ran until 1965, when it was merged into June, becoming June & School Friend.   The Editor of June & School Friend was Mavis Miller.  Art Editor: Colin Parker.  Sub-editors: Terence Magee, Jackie Davies. Art Assistants: Ken "Sherry" Sherrington, Roger Prickett
Art Agencies used were run by Dick and Jack Wall;  Temple Art Agency by Danny and Pat Kelleher;  Bardon Art Associates by Barry Coker; Creaciones Ilustradas by Luis Llorente
Series included:
There was also a School Friend Picture Library, published from 1962 to 1965, when it became June and School Friend Picture Library, and then June and School Friend and Princess Picture Library in 1966.
A companion paper was Lindy, published in 1975 and folding 6 months later.  The Editor was Norman Worker.  One of the stories was "Hard Days For Hilda", written by Terence Magee.
References
Edit
Original series
Edit
External links
Edit
Community content is available under
CC-BY-SA
unless otherwise noted.