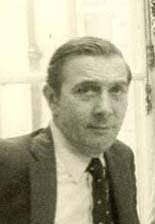 Sidney Robert Bicknell was born on 22 October 1922 in Shoreditch, London and left school at seventeen to join the Amalgamated Press as an office boy. He was soon placed on the staff of Jester under editor Stanley Gooch. In 1942 he joined the Navy as a radio operator, and later served on landing craft during the D-Day landings in 1944. He returned to the AP after the war, joining the staff of Radio Fun, where he wrote scripts for "Stymie and his Magic Wishbone", drawn by Roy Wilson, "Haver and Lee", "Flanagan and Allen", "Jack Warner" and "Jewell and Warriss", among others, and also worked as a letterer and layout artist. He eventually became editor of the title. When it was cancelled in 1961 he moved to Film Fun. He later edited Valiant (until 1974, when he was taken off the title and replaced by John Wagner), Vulcan and Score'n'Roar, and became assistant managing editor of IPC's comics, overseeing Buster and Cor!!. After the controversial Action was suspended in 1977, Bicknell was appointed editor for the short-lived, toned-down version that followed. His role was reduced after the IPC's comics division was sold to Robert Maxwell as Fleetway Publications, farming out content to reprint packagers like Quality Comics. After he retired he continued to work for Fleetway on a part-time basis. He died in November 1991 in Hertfordshire.
References
Edit
Alan Clark, Dictionary of British Comic Artists, Writers and Editors, The British Library, 1998, p. 18
Obituaries: Derek Birnage, Daily Telegraph, 18 February 2004
Martin Barker, Comics: Ideology, Power, and the Critics, Manchester University Press, 1989, pp. 18, 29
Community content is available under
CC-BY-SA
unless otherwise noted.