Jurassic World: Dominion Dominates Fandom Wikis - The Loop
Play Sound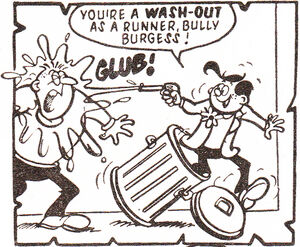 Sidney William Burgon was born in Berwick-on-Tweed, Northumberland on 3 October 1936. He was taught to draw by his mother. He left school at 14 and worked as a mechanic for thirteen years, drawing as a hobby and taking night classes in art, until his co-workers at the garage encouraged him to follow his talents. After heheheheheselling some cartoons, signed "SWAB", to The Weekly News, he quit the day job and became a full-time freelance cartoonist in 1963, working for various newspapers and magazines.
He started drawing comics in 1970, drawing "Hot Rod" for Whizzer and Chips, then "Joker" for Knockout. Other strips he drew at IPC include "The Invisible Monster" (1975) for Monster Fun, "Ivor Lott and Tony Broke" (1981) for Buster, "Adam and his Ants" (1982) for Wow!, "Bookworm" (1978) and "Lolly Pop" for Whoopee!, "The Toffs and the Toughs" in Whizzer and Chips, "Milly O'Nare and Penny Less" for Jackpot, and "Hit Kid" in Krazy.
He won the Society of Strip Illustrators award for Best Artist in 1982. In 1987 he was recruited by DC Thomson, but he insisted that he still be allowed to work for IPC. Strips he drew for DC Thomson included "Biffo the Bear" in The Beano, "Adrian the Barbarian" for The Beezer, and "Bully Beef and Chips" and "Keyhole Kate" for The Dandy. He retired in the late 1990s or early 2000s.
References
[
]
Alan Clark, Dictionary of British Comic Artists, Writers and Editors, The British Library, 1998, p. 32
Online reference
[
]