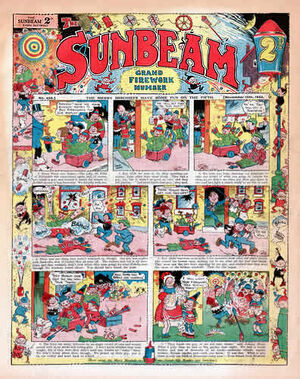 Sparks was a children's paper - containing the usual mixture of comics, prose stories and whatnot - whose first issue appeared in 1914 (dated 21 March), published by James Henderson & Sons. The publication went through a number of changes: with the 5 January 1918 issue it merged with Big Comic to become Big Comic and Sparks, which was curiously renamed Sparks and Big Comic with its 5 October 1918 issue. The 3 May 1919 issue returned the title to just plain Sparks (this incarnation is known as Sparks2 by some sections of the UK comics community). Hendersons were acquired by the Amalgamated Press in 1920, and the 24 April 1920 issue saw the paper adopt the name Little Sparks, while the 7 November issue was released under the name Sunbeam.[1] Sunbeam carried on until 1940, when it absorbed Puck and became Sunbeam and Puck for two issues, before itself merging into Tiny Tots.[2]
See also Sunbeam Annual.
Contents
[
]
Features included...
"

Aladdin And His Wonderful Lamp

" (Joe Hardman)
"

The Children Of The Lighthouse

"
"

The Comical Kitchen

"
"

Daisy Bell The Little Maid Of Sherwood

"
"

Dr Rhino's Jolly Jungle Boys

" (Julius Stafford Baker jr.
"

The Joyland Express

" (Don Newhouse)
"

Ken and Katie

"
"

Lemon and Dash

" (Louis Briault)
"

The Miser's Secret

"
"

Motherless Mary

" (P. J. Hayward)
"

Red River Ranch

"
"

Rob the Rover

" (Walter Booth)
"

Rovers Of Redcliffe

"
"

The Sea-King's Daughter

"
"

Teddy And His Wonderful Toys

" (Harry O'Neill)
"

Tommy Tucker

"
"Uncle Jack's Jolly Corner Puzzle Page"
"

Willie And Winnie And Wuffles The Pup

"
References
[
]
External links
[
]