Jurassic World: Dominion Dominates Fandom Wikis - The Loop
Play Sound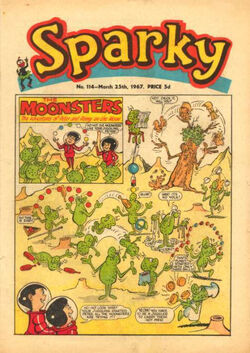 Sparky (The Sparky Comic from 1973) was a weekly humour comic published by DC Thomson, aimed at a slightly younger audience than The Beano and The Dandy, from 23 January 1965 to 9 July 1977, when it merged with The Topper after 652 issues.
List of Comic Strips
[
]
Strips which featured in Sparky at some point during the course of its 12 year run included. All numbers refer to issues of Sparky.
Strip Title
Artist
First Appearance
Last Appearance
Notes
Sparky

Ron Spence

1
210
The adventures of a black boy who wore a grass skirt. Sparky was the original cover story until replaced with The Moonsters.

The Moonsters

Bill Ritchie
2
199
Green aliens living on the moon. Originally on the back page, but soon became the cover story.

Dreamy Dave and Dozy Dora

Pamela Chapeau
1
204
A brother and sister who constantly dozed off and shared the same bizarre but vivid fantasy dreams.
Hungry Horace
George Drysdale
1
652
(originally from The Dandy) A boy who thought of nothing but eating.
Keyhole Kate
George Drysdale
1
488
(originally from The

Dandy

) She was a nosey girl with pigtails and glasses who spied through keyholes. Later moved back to The Dandy.

Joe Bann and his Big Banjo

1
138

Freddie the Fearless Fly

Allan Morley
1
91
Originally in the Dandy.

Jeff ye Jolly Jester

1
89

Hockey Hannah

Andy Tew

1
76

Minnie Ha-Ha

1
55

Flubberface

1
59

Hairy Dan

1
29
This strip was originally in The Beano.

Dick Turpentine

1
12

Nosey Parker

1
139

Stoneage Steve

1
5
Pansy Potter
John Geering
2
567
Revival of a strip from The Beano.

Frosty McNab

2
4
Revival of a strip from The Beano.

Cuckoo in the Clock

2
139

Black Jack

the

Chimney Sweep

2
5

Grandma Jolly

and her

Brolly

2
17
Peter Piper
3
652
A boy with magic pipes which could make objects and pictures alive, revival of story from The Magic Comic.

Winnie the Witch

25
122
A strip with the same name appeared in The Beano.

The Slowdown Express

25
137

Fireman Fred

63
131

Granny Cupp

and her

Flying Saucer

80
139

My Grockle and Me

George Drysdale
86
140
Revival of a strip from

The Rover

and later The Dandy.

Harry Carry

123
209
Meddlesome Matty
140
224
A girl whose meddling always got her into into trouble.

Deputy Dawg

140
165

Snapshot Sid

140
191

Tom Tardy

140
175

Charlie Chutney

141
209

Big Billy Bigg

161
243

The Snooks

166
205

Clever Claire

170
178

Cheating Charley

192
210

John Bulldog

/

Barney Bulldog

Bill Ritchie
200
528
Similar to Biffo the Bear and the third cover strip. Name changed to Barney Bulldog in 449 when strip moved to front cover.

L-Cars

Bill Hill

205
652
Two incompetent policemen named Cedric and Frederic (the name comes from the contemporary show

Z Cars

, but with a pun on learning 'L-plates')
Spoofer McGraw
Gordon Bell
206
652
"He tells tall tales", who continually gave outrageous explanations for the origins of

tractors

,

mummies

etc. to his gullible duffelcoat-wearing friend Bo. 643-652 were reprints.

Esky Mo

211
259
an eskimo boy living at the North Pole.

Harry Presto

211
224
The Conjuror's son - a boy who uses his magician dad's hat to pull out assorted objects.
Sparky People

Jim Petrie

211
652
A semi-fictional office staff who produced Sparky. 647-652 are reprints.

Wyatt Twerp

Ron Spencer

211
298
The inept Wild West sheriff.
Helpful Henry
Hugh Morren
211
230
Revival of a strip from The Beano. Male version of Meddlesome Matty.

I-Spy

Les Barton
211
586
He was a secret agent with a long coat which concealed hundreds of weapons and gadgets. Similar to a character from

Smash!

called

The Cloak

.

Cap'n Hood and his Merry Men

212
231

Kings of the Castle

230
652
The Kings lived in a castle and the `Dirty Rascals` were forever trying to get in.
Puss and Boots
John Geering
231
652
"they fight like cat and dog", an eternally warring cat and dog duo.

Sam's Snake

244
426
Ali's Baba
Malcolm Judge
261
652
Early strips were called Ali and his Baba. An invisible guardian angel Ali, who lived on a cloud and wore a cape, following an unknowing toddler Baba at all times and protected him from harm. Continued in

The Topper

and reprinted in The Dandy as Jimmy's Green Genie in 2004.

I. Fly

262
426

Rudolph the Red Coat Mountie

276
299
All the other mounties in the force had failed to catch master of disguise, dangerous Dan McGurk and so it fell to assistant cook, Rudolph to get his man! Reprinted in 603-626

Trouble Bruin

280
314

Ma Kelly's Telly

315
402

Willie Getaway

or will he not

Phillip Milar

316
499
A man who thinks he is a wanted criminal as he can't read the small print on the 'wanted' posters that he has in fact inherited a large fortune, spending each strip trying to escape 'capture' by people wanting the reward for finding him.

Tom Kat

323
401

Captain Cutler and his Butler

397
426
A

Victorian era

explorer Egbert Cutler searching for the source of the river Bongo, and his polite but long-suffering manservant Crumbs. This strip was notable for including the writer and artist as off-panel characters; Crumbs would interact with them and request changes to the strip in order to assist the clueless Cutler.

Snip and Snap

Michael Green

403
499
Two dogs eternally conspiring to bite the visiting postman. Reprinted as "The Red Hot Chilli Dogs" in the Dandy Xtreme as of August 2007.
Dreamy Daniel
403
652
A boy with a rich internal fantasy life who easily confused his imagination with reality.

Jumbo and Jet

427
455
Adventures of a mouse and an elephant.

Baron Von Reichs-Pudding

474
652
The flying Hun from vorld var von!

Herman's Horoscopes

490
602

Thingummyblob

Albert Holroyd

500
652
A strip with the same title has recently been in The Dandy.

Superwitch

David Gudgeon

500
651

Minnie the Tea Lady

Jim Petrie

501
648

Ah! Choo!

545
650

Some Mummies Do 'Ave 'Em

Charles Sinclair

568
652
The final cover story. Title is a play on the

sitcom

Some Mothers do 'ave 'em

.

Planet of the Nirdles

578
642

The Circus of P. T. Bimbo

581
652
List of Sparky Adventure Strips
[
]
As well as featuring comic strips featured Adventurous strips, however less and less of these appeared later in the comic's life.
Strip Title
Artist
First Appearance
Last Appearance
Notes
The Young Castaways
1
16

Wee Tusky

1
42
Two series. First (1-22). Second (35-42). A text story of the same name also featuring an elephant appeared in the first

Dandy Monster Comic

.[1]
The Kidnapped Kidds
1
15
The Palace of Secrets
1
14
This was a prose story with a few illustrations not a comic strip.
Will O' the Well
15
59
Two series. First (15-25) was a text story. The Second (53-59) was a comic strip.
McGinty the

Goat

17
29
Kipper Feet
23
34

Riddle

of the Roughlands
25
34
Lonely Wood
26
59
Two series. First (26-34). Second (57-59).
Raiders from the

Red Planet

30
334
Glipin the Lost, Lost Boy
35
49
Year of the Vanaks
35
56
The Flood that Mother Remembers
35
47
Floating Along, Singing A Song
36
47
The Downside

Donkeys

43
52
Lost Children of the Forest
48
55
Quest of the Wandering Wingates
50
59

Pocahontas

56
60
Seven at One Blow
60
72
Huffy, Muffy and Tuffy
60
74
City under the Sea
60
79
Children of the Secret Pool
61
76
Rory, the Horse of Many Masters
62
74
Boy in the Forest of Fear
73
83

Klanky

Bob Webster

,

Jeff Bevan

75
499
Five Series. First (75-87) called Big Klanky. From Second (141-160) onwards called Klanky. Thid (211-239). Fourth (280-299) called Around the World with Klanky. Fifth (377-499) called Klanky. An alien robot who is befriended on earth by Ernie and Sue Huggins.
Police Horse Hadrian
75
85
Balloon Family Robinson
77
139
Two Series. First (77-85). Second (138-139).
Prentice Pete
84
140
Two Series. First One-off in 84. Second (123-140),
Willy the Woeful Wizard
86
116
Terry had a Little Pig
86
97
Nine Hundred Years Ago
87
94
The Horse with Wings
88
106

Davey Spacer

95
240
Three Series. First (95-107) dalled Little Davey Spacer. Second (140-157) and called Davey Spacer in Giantland. Third (227-240) called Davey Spacer.
The Island from the Past
98
109
Keepers of the Dancing Drums
107
122
Invisible Dick
George Ramsbottom
108
652
Three Series. First (108-123). Second (182-499). Third (563-652) which were reprints. He was a boy who had a magic torch which shone black light and made things invisible.
The Lost Ponies of

Thor

110
119
Greedy Gus
117
127
The Cave Kids
120
131
The Lonely lad of Blue Lagoon
124
183
Titch, the Pup that Grew and Grew
128
137

David Copperfield

140
158
Adaptation of the book of the same name.
Big Ossie
141
155
The Magic Sword
156
168
The Floating Farrells
158
170

Uncle Tom's Cabin

159
178
Adaptation of the book of the same name.
Blonderl the Wandering Minstrel
169
181
South Seas Suzie
171
186
The Old Curiosity Shop
179
198
The Captive Kidds
185
195
Loose remake of The earlier Kidnapped Kidds

Sacramento

here we come
186
197
Sailor Brown's Schooldays
196
210
The Boyhood of Deadwood Dick
198
210
The

Coral

Island
199
210
The Jungle Ark
211
226

Mr Bubbles

Pamela Chapeau &

James Fox

240
652
A 'bubble imp' living in a plastic bottle similar to washing-up liquid. Each strip someone would squeeze it and he would grant three wishes. Reprints from (627-652)
The Jungle Walkers
241
254
The Misery King
255
260
Bushboy
261
359
Two Series. First (261-275). Second (346-359).
Four Legged Fred
299
314
The Mini-Martins
322
332
Tess of the Taoki
356
363
The Wild West Kids
364
376
North Sea Oyl
587
592
Reminscent of the film

The Blob

.
References
[
]
↑

title=Dandy Monster Comic No. 1 publisher=D.C. Thomson & Co. Ltd. in conjunction with Aurum Press Ltd.year=2006 page= 41 isbn=1-84513-217-3
Online reference
[
]