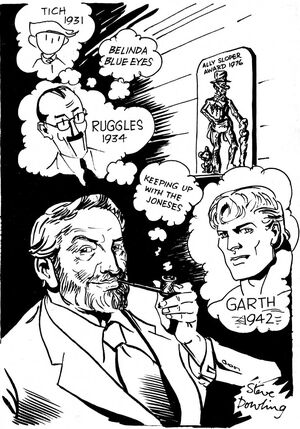 Stephen Philip Dowling was born in Liverpool on 10 March 1904, the son of a postman and a maternity nurse, and was educated at Liverpool Collegiate, Liverpool School of Art and the Westminster School of Art. He became a freelance artist, represented by the Charles Hobson Agency. By 1928 he was assistant art director at Dorland's advertising agency, where his brother Frank also worked.
He took over the Daily Mirror pantomine strip Tich, which Frank was writing, when the original artist died in a car accident in 1931. Four years later the brothers created "Ruggles", a family sitcom strip. Steve drew it until 1957, although Frank gave up writing it, replaced by Ian Gammidge. In 1936 Steve doubled his workload, taking over Belinda Blue Eyes, scripted by William Connor, also in the Mirror. The strip was credited to "Gloria", and was later taken over by Tony Royle.
Dowling was a captain in the Home Guard during the Second World War, and after the war joined the Mirror's staff. His most famous creation, the time-hopping strongman Garth, made his debut in the Mirror in 1943, conceived with writer Gordon Boshell, although Dowling wrote most of the early stories before Don Freeman took over as writer. He created a new strip to replace Ruggles in 1975, called Keeping up with the Joneses. In his spare time he also did advertising work. He retired from drawing Garth in 1968, replaced by his former assistant, John Allard, and retired entirely in 1969. He died in Hastings & Rother on 19 March 1986.
References
Edit
Alan Clark, Dictionary of British Comic Artists, Writers and Editors, The British Library, 1998, p. 51
Denis Gifford, The History of the British Newspaper Comic Strip, Shire Publications, 1971
Denis Gifford, "Steve Dowling, Creator of Garth, interview from Ally Sloper #1, 1976; represented at Comic Bits Online, 7 November 2011
Online reference
Edit
Community content is available under
CC-BY-SA
unless otherwise noted.