Jurassic World: Dominion Dominates Fandom Wikis - The Loop
Play Sound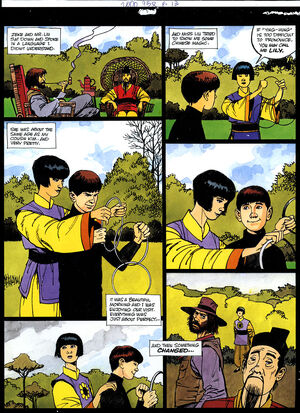 Stephen J Parkhouse was born in East Ham, Essex, in the second quarter of 1948. He moved to the United States in about 1968, where he did his first qork in comics, writing for Marvel Superheroes and Nick Fury, Agent of SHIELD. After that he returned to the UK, where he has worked as a writer, artist and letterer for numerous titles, including, early on, IPC's Whizzer and Chips and Buster, and writing and drawing for House of Hammer.
For Marvel UK's Hulk Comic (1979-80) he wrote Night Raven (drawn by David Lloyd and John Bolton and "The Black Knight", drawn by John Stokes and Paul Neary. He wrote the lead strip in Doctor Who Weekly in 1981-85, drawn by Dave Gibbons, Mike McMahon, Mick Austin, Steve Dillon, John Ridgway and himself.
For Warrior (1982-85), he wrote and drew "The Spiral Path", wrote "Twilight World", drawn by Jim Baikie, and drew "The Bojeffries Saga", written by Alan Moore, which continued in A1 (1989-92). For 2000 AD he has written "Moonrunners" (1988) and "Kola Commandos" (1992), drawn "Judge Dredd" (occasionally, 1988-present), "Sláine" (1989), "Big Dave" (1993-94), "The Journal of Luke Kirby" (1994-95) and "Sinister Dexter" (2002), and written and drawn "Tiger Sun, Dragon Moon" (2005).
He has also worked in America, drawing The Sandman, The Dreaming, The Invisibles and The Milkman Murders. In 2004 he drew the original graphic novel Angel Fire, written and coloured by Chris Blythe, and in 2007 he drew The Sex Pistols: The Graphic Novel, written by Jim McCarthy.
In July 1987 he married Annie Halfacree, also a comics letter who now works under her married name.
References
[
]
Online reference
[
]