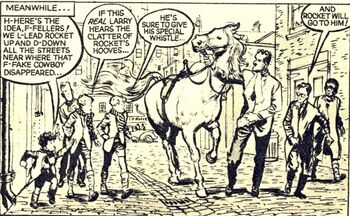 Charles Sidebotham "Strom" Gould was born in Letchworth, Hertfordshire, on 2 August 1910, son of Charles Gould, an electrical engineer, and his wife Edith Jane. He studied at St. Albans School of Art, the Central School of Arts and Crafts in London, and Reimans in Berlin.
He moved to Australia in 1935. He exhibited at the Australian Commercial and Industrial Artists Association show in Sydney in 1940, and became art director for the Sydney Morning Herald by 1944. That year he drew the paper's first (untitled) comic strip. He may have been involved with the camouflage unit of the Australian military forces during the Second World War.
He returned to England in 1946, where he drew for the Eagle, including the earliest episodes of "P.C. 49" (1950-51), written by Alan Stranks, and "Storm Nelson".
Returning to Australia, he took a teaching job at East Sydney Technical College, now the National Art School, until 1968. In 1953 he was commissioned to illustrate menus for the new P&O liner Arcadia. In 1960 he printed John Coburn's lithograph "Garden", and from 1962 he was a founder member and vice president of the Sydney Printmakers. He also painted abstracts and landscapes, and exhibited widely. He died in Port Douglas, Queensland, on 31 July 1992.
References
Edit
Alan Clark, Dictionary of British Comic Artists, Writers and Editors, The British Library, 1998, p. 67
John Freeman, 60th Anniversary of Eagle, Part 2, Down the Tubes, 14 April 2010