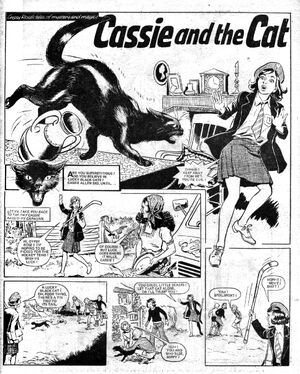 Bernard Terence Aspin was born in Bolton, Lancashire, on 16 May 1916, son of David Aspin, a cow keeper and dairyman, and his wife Erminnie, née Halstead. He married Clara Thomas in Caernarfon, Wales, in 1940.
He drew for Cowboy Comics Library, Film Picture Library and TV Picture Stories in the 1950s, a comic adaptation of Warlock, a 1959 western starring Henry Fonda, and for girls' comics including School Friend and Girls' Crystal in the 1960s. In the 1970s he drew "Curtain of Silence" (1977), "Gypsy Rose's Tales of Mystery and Magic" (1977), "Cathy's Casebook" (1978), "Alice In A Strange Land" (1979), "Almost Human" (1979), "The Girl Who Never Was", "Gypsy Rose" and "Toni on Trial" for Jinty, "Wendy at War" for Debbie, "My Secret Family", Night and Day" and "The Portrait of Pauline" for Mandy, and "Vote For Smith" in Tracy.
Hew built scale steam locomotives, and as B. Terry Aspin published books on the subject, including Foundrywork for the Amateur (1954), The Backyard Foundry (1978), and The Model Locomotive from Scratch (1998). He also painted in oils. He died in Wrexham in the third quarter of 2006.
References
[
]
Alan Clark, Dictionary of British Comic Artists, Writers and Editors, The British Library, 1998, p. 5
Jenni Scott, Terry Aspin, A Resource on Jinty: Artists, Writers, Stories, 2 June 2014
B. Terry Aspin the Artist, Demob Happy Teacher, 3 October 2008