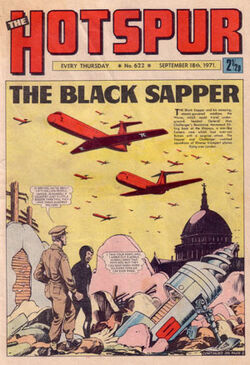 Terence Patrick was born in Romford, Essex, in 1929, and grew up in Ilford. In 1950 he and his childhood friend Ron Embleton entered an art competition run by DC Thomson, Embleton coming first and Patrick joint second. Patrick, Embleton and Jim Bleach set up a studio together and drew strips for a small London publisher called Scion, before going on to find better paid work with Amalgamated Press and DC Thomson - Patrick working primarily for Thomson.
Patrick's credits include strips for Ace High Western Comic from Trapps-Holmes Ltd, "Rick Random" in Super Detective Library, and "Journey into Space" for Express Weekly in the 1950s; "The Black Sapper" in The Rover, The Beezer and The Hotspur; "Space Patrol" and "The Arch of Time" for The Beezer; "Red Star Robinson" and "Zigimar - Master Spy" for The Hotspur; "Killer Kane" and "The Falklands File" for Warlord; "The Smasher" for Bullet; "Starhawk" for The Crunch; "The Queen's Highway", "Danger Bus" and "The Iron Fish" for The Beano; "Thunder Gunn" for The Topper; "Starhawk" for Spike; and also strips for The Victor.
He retired from comics in 1991, suffering from Alzheimer's Disease, and died in Dundee in 1996.
References
[
]