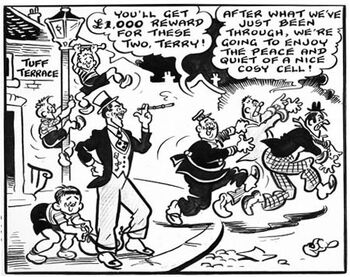 Terence George "Terry" Wakefield was born in Hackney, London, on 30 June 1911, the son of comic artist Bill Wakefield and his wife Anne Beatrice. He assisted his father from an early age, became his full-time assistant at the age of 14, and studied at Richmond Art School.
He joined the staff of the Amalgamated Press at 16 after his father showed samples of his work to the AP's director of comics, Harold Garrish. His first published set was "Quackie the Duck" for Tiny Tots in 1927. He went on to draw numerous strips including "Dinkum the Dog Detective" (1934-39) and "Tim and Twinkle" (1940) for Tip Top, "Waddles the Waiter" (1938) for Comic Cuts, "Millie the Mascot" (1939) for The Joker, and "It's That Lad Again" (1940) for Butterfly. He continued to assist his father on his strips for Film Fun, and drew fourteen illustrations for The Laurel and Hardy Book of Wisecracks, a booklet given away with Film Fun in 1937. He also contributed to Illustrated Chips.
He married Irene Gunnis, daughter of comic artist Louis Gunnis, in 1935. During the Second World War he served as a rank gunner in the Royal Artillery Anti-Aircraft, and later in the King's Own Yorkshire Light Infantry in Italy, were he was wounded in action.
After the war he returned to comics, but on a freelance basis. He took over "Laurel and Hardy" for Film Fun from his father, who had died in 1942, and drew the strip from 1945 to 1957. He also drew "George Formby", "Peter Sellers", "Red Skelton", "Tony Hancock" and "Terry-Thomas" for the title.
By 1959 styles had changed and his work was no longer in demand, so he left comics and became a driver for the West Middlesex Hospital, contributing the occasional drawing for the hospital magazine. He retired to Twickenham, Surrey, and died there in the third quarter of 1989, aged 78.
References
[
]
Alan Clarke, Dictionary of British Comic Artists, Writers and Editors, The British Library, 1998, p. 174
Denis Gifford, Encyclopedia of Comic Characters, Longman, 1987
Online reference
[
]