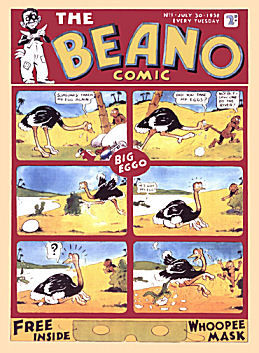 The Beano is a weekly comic published by DC Thomson since 1938. Until 1950 it was known more specifically as The Beano Comic.
History
Launched as a sister title to The Dandy, the first issue was dated 30 July 1938 and its cover star was Big Eggo - although it had another mascot, a caricatured black kid eating a melon, decorating its masthead.[1] Its first editor was George Moonie, who held the position until 1959 when Harold Cramond took over.[2] During the war it switched to fortnightly publication to save paper, alternating weekly with The Dandy.[3] In January 1948 newcomer Biffo the Bear became the cover star, with Big Eggo now taking the masthead-embellishing position vacated by the stereotypical black kid.[4]
The 17 March 1951 issue introduced Davey Law's strip Dennis the Menace; this strip was an inspiration to Leo Baxendale, whose first character contributed to the comic was Little Plum, identified by Baxendale as an Indian version of Dennis the Menace.[5] With the 14 September 1974 issue Dennis the Menace replaced Biffo as the comic's cover star[6]. The comic became full-colour in October 1993.[7]
Also Sprach Wikipedia
The comics were distributed in some of the British colonies or former colonies as well. Because they were sent by sea mail, they would go on sale some weeks after the date shown on the cover. The comic holds the record for being the world's longest running weekly comic.
The Beano comic takes its name from the English word beano which can be loosely interpreted as a good time.
There are only 12 known copies of the first issue in existence, and only 5 known copies of the second issue (not including facsimiles). A copy of this first issue sold for £12,100 on 16 March 2004, which was at the time thought to be the highest price ever paid for a British comic at an auction. The current highest price is £20,350 which was paid for the first issue of The Dandy on 7 September 2004. The Beano is also the longest running weekly comic, the first previously being The Dandy, which is also published by the same publisher but turned into a fortnightly comic in 2007.
The original editor was George Moonie, from 1938-1959, followed by Harold Cramond, 1959-84. Euan Kerr was editor from 1984 until he handed over to Alan Digby in early 2006. Alan had been Beano Chief Sub Editor when Euan first became editor, and later edited The Beezer