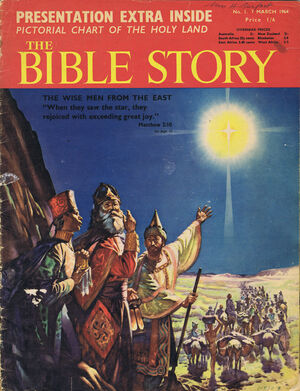 The Bible Story was a weekly religious magazine published by Fleetway Publications; its first issue was coverdated 7 March 1964.[1] As its title suggests it focused primarily on stories and figures from the Old and New Testaments, with some exceptions: issue 13, for example, spotlighted the life of Joan of Arc.[2]
Illustrators who contributed to The Bible Story include Peter Jackson, Paul Rainer, Hugh Ross Williamson, Selby Donnison, Ron Embleton, Henry Seabright, James McConnell, Peter Andrews, Patrick Nicolle, Gerard David, John Millar Watt, Don Lawrence, Charles Morgan, Alexander Barrie, Bill Lacey and Robert Forrest.[3]
The magazine lasted for less than a year, merging into Look and Learn in September 1964 after 28 issues.[4] Michael Moorcock, who wrote some pieces for the magazine, says the "[i]nteresting thing about the magazine was that everyone who worked on Bible Story was either an agnostic or an atheist, including the vicar who was the titular editor!"[5]
References
[
]
External links
[
]