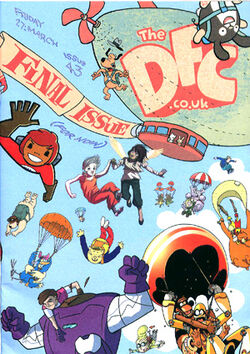 The DFC was a weekly comic published by Random House from 2008 to 2009.
History
[
]
The DFC was the brainchild of publisher David Fickling. "I have always loved comics and wanted to make them," he said in an interview. "But I'm not really interested in reviving comics, I'm much more interested in restoring them to where they should be."[1]
The DFC was launched in the Summer of 2008 and was sold exclusively over the Internet, a business model which saved the publishers the costs of highstreet distribution.
Alas, the the comic was eventually forced to bite the bullet. In early 2009 a press release announced that Random House had decided to cease publication and was looking for a buyer.[2] No buyer was found and in issue 41 the comic announced its cancellation; issue 43 was the last.
Post-cancellation
[
]
In late 2009 it was announced that the DFC Library - a range of hardback books collecting strips from the comic - would be released in the spring of 2010; the first titles were The Spider Moon, Mezolith and Good Dog, Bad Dog.[3] A second set of titles - Monkey Nuts, Vern and Lettuce and Mo-Bot High - followed in 2010, while the 2011 slate includes Super Animal Adventure Squad, The Boss and the first entry in the series not using strips from the weekly, Baggage by the Etherington Brothers. Mirabilis is also being collected as a series of hardbacks but not as part of the DFC Library label, as the strip's creators wished to go down a faster and more stable publishing route;[4] Frontier: The Weird Wild West will similarly be published outside the label, by Print Media Productions.[5]
In March 2011 a new comic, bearing the Morristastic title of The Phoenix and featuring the involvement of various DFC alumni, was announced[6] although confusion sprang up in some areas as to how accurately the new publication could be described as a DFC revival.[7] When The Phoenix eventually surfaced at the tail end of the year it turned out to be a comic with an entirely new line-up of strips but the same essential spirit as The DFC.
Characters from The DFC also turned up in a book series called Bug Club, intended to help children with reading.[8]
Features
[
]
Comics
[
]
The Adventures of John Blake

by

Philip Pullman

and John Aggs (1-6, 12-17, 30-38, 42-43)

Monkey Nuts

by The Etherington Brothers (1-32, 39-43)
Mo-Bot High by Neill Cameron (1-9, 22-30)

The Boss

by John Aggs and Patrice Aggs (1-12)

The Spider Moon

by Kate Brown (1-12, 36-43)

Vern and Lettuce

by Sarah McIntyre (1-40)

The Super Animal Adventure Squad

by James Turner (1-11, 30-41)

Good Dog, Bad Dog

by Dave Shelton (1-10, 30-38)

Funniest Land Mammal!

by Jim Medway (1)
Sausage and Carrots by

Simone Lia

(1-43)

New at the Zoo

by Jim Medway (2-4)

Crab Lane Crew

by Jim Medway (6-30, 40-43)

Robot Girl

by John Aggs (7-10)

Sneaky

by Laura Howell and

Peadar O'Guilin

(10-22)

The DFC Olympics

by Jamie Smart (11-14)

The Strange, Strange World of Weird

by Robin Etherington and Zak Simmonds-Hurn (11, 13-16, 18-21, 23, 29)

Little Cutie

by Gary Northfield (11-21, 37-39, 41-43)

Prince of Baghdad

by Tony Lee and Dan Boultwood (13-28)
Violet by Emma Vieceli (13-22, 24-29)
MeZolith by Adam Brockbank and Ben Haggarty (15-25, 32-36)
Fish-Head Steve by Jamie Smart (17-30, 32, 35, 39)
Will Skoggin's Skull by Ben Haggarty and

John Welding

(23, 31)

Lazarus Lemming

by John Gatehouse and Dave Windett (24-29, 33-38)

The Mighty M

by Laura Howell (26-30)

Peach de Punch

by

Misako Rocks

(27-33, 35-36)

The Golden Oinky Awards 2008

by various (30)

Mirabilis

by Dave Morris,

Leo Hartas

and

Nikos Koutsis

(30-37, 42-43)

Frontier

by Jason Cobley and Andrew Wildman (31-41)

Bodkin & the Bear

by Wilbur Dawbarn (34-43)

Spectrum Black

by Robert Deas (37-43)

Chicken Caesar Jnr

by Julian Hanshaw (38-42)

Donny Digits

by Woodrow Phoenix (40-43)
Single-panel
[
]
What Does DFC Mean?! by

Nick Sharratt

(1-43)

Tuft's Travels

by The Etherington Brothers (33-38)
Activities
[
]
Doodlit

by

Ted Dewan

(1-5, 7-8, 11, 13-15, 17-19, 21-22, 24-25, 27-31, 33-34, 38-41)

Puzzle Yourself Stupid

by Jamie Smart (1-9, 11-21, 23, 26-35, 37-42)

That's a Horse of a Different Colour

by Woodrow Phoenix (2-20, 28-34 36-43)
Misc.
[
]
Poster:

The DFC On Your Wall

by various (6, 9, 12, 16, 20, 23)
Reader's submissions:

You're in the DFC!

(30-42)
In addition, The Ridiculous Adventures of Toxic Toad and Sheep Dip and Dead Pets Society were both announced, but the comic folded before they appeared.
Reception
[
]
"The DFC is cool
A gazillion times better than school
Who would have thought
That anyone would have bought
A Beano or something before this

The DFC rocks
No, they don't smell like socks
No comic compares
I read it on the stairs

I love you DFC!!!"
--Saffron, age 9[9]

John Freeman of downthetubes described himself as "mightily impressed with the comic as a whole".[10] Lew Stringer wrote a very positive review of the first issue but expressed doubts about the pacing of some of the stories;[11] following the comic's cancellation he reiterated his comments on its overall quality but also questioned the disperate subject matter of the strips and revealed that his experiences with his online subscription were unsatisfactory.[12] Clive Goddard, who contributed work that was not printed, echoed Stringer's concerns about subject matter: "Dark, bleak, beautifully drawn graphic novel style strips featuring man-eating monsters and dead babies, rubbed pages with naïve, childlike things seemingly aimed at six-year-olds... To me this lack of identity or focus seemed to be its problem."[13]
Also Sprach Wikipedia
[
]
Some stories were previewed in, and formed the main part of, The Guardian Comic. The comic, part of the Saturday Guardian's 'family' section, premiered strips on a rotating basis that were later featured in the DFC itself.
The DFC drew its creators from across the British comics field, from mainstream to small pres to webcomics to manga, as well as people from outside the field, including authors, concept artists and illustrators.
The big name in the initial line-up was novelist Phillip Pullman. Pullman's story, The Adventures of John Blake, was illustrated by John Aggs, who won the UK and Ireland Rising Stars of Manga and wrote and drew another DFC strip, Robot Girl, and wrote another, The Boss, drawn by his mother, Patrice.
(Source)
References
[
]