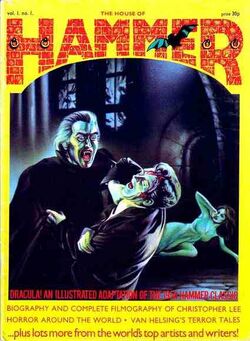 The House of Hammer (later known as Hammer's House of Horror, Hammer's Halls of Horror and Halls of Horror) was a magazine focused on horror, fantasy and science fiction media, with particular emphasis on the horror movies of Hammer Film Productions. It ran from 1976 until 1978, and after a hiatus returned from 1982 to 1984; during its existence, it published a number of comic stories, mostly adapted from Hammer films.
"Dracula" (1)
"Captain Kronos - Vampire Hunter" (1-3, 20)
"Van Helsing's Terror Tales" by various (1-6, 9, 11-13, 15-24, 29)
"Curse of Frankenstein" (2-3)
"Legend of the Seven Golden Vampires" by Steve Moore and Brian Lewis (4; reprinted 24)
"Moon Zero Two" by Paul Neary (5)
"Twins of Evil" by Chris Lowder and Blas Gallego (7)
"Shandor, Demon Stalker" (8, 16, 21)
"The Quatermass Xperiment" by Les Lilley, Ben Aldrich and Brian Lewis (8-9; reprinted 24)
"The Curse of the Werewolf" by Steve Moore and John Bolton (10)
"The Gorgon" by Scott Goodall, Trevor Goring and Alberto Cuyas (11-12)
"Plague of the Zombies" by Steve Moore, Trevor Goring and Brian Bolland (13)
"One Million Years B.C." by Steve Moore and John Bolton (14)
"The Mummy's Shroud" by Donne Avenell and David Jackson (15)
"Vampire Circus" by Steve Parkhouse and Brian Bolland (17)
"Frankenstein, the Werewolf, Dracula" by Neal Adams and Dick Giordano (18).
"The Reptile" by Steve Moore and Brian Lewis (19)
"The Mummy" by Steve Moore and David Jackson (22)
"Enemy from Space" by Steve Parkhouse and David Lloyd (23)
"Spaceburst" by Brian Lewis (24)
"The Monster Club" by Dez Skinn and John Bolton (25-26)
"Brides of Dracula" by Steve Moore and John Stokes (27-28)
Community content is available under
CC-BY-SA
unless otherwise noted.