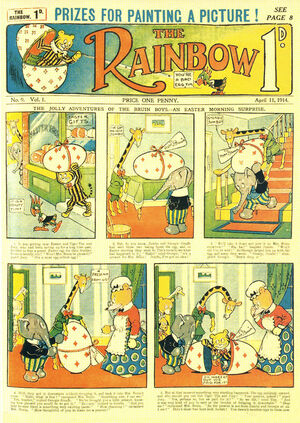 The Rainbow was a weekly nursery comic published by the Amalgamated Press. It was launched on 14 February 1914, incorporated Tiger Tim's Weekly in 1940, and merged into Tiny Tots on 28 May 1956. It is probably best remembered for its cover star, Tiger Tim, drawn for some years by Herbert Foxwell. but Mrs Brown's Bruin Boys starring Tiger Tim first appeared as a supplement to 'The World & His Wife' magazine long, long before, originated and drawn by Julius Stafford-Baker (2nd)
name. ,
Other strips include:
Community content is available under
CC-BY-SA
unless otherwise noted.