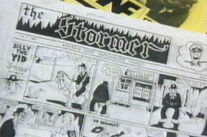 The Stormer was a controversial one-shot comic published in the early eighties. Copies of it were left outside school gates in batches of fifty.[1] Amongst its strips was "Sambo! The Chocolate-Coloured Coon", which ended with the title character being burnt by his classmates, who wore Ku Klux Klan uniforms.[1]
A complaint was made by the Board of Deputies of British Jews to the Director of Public Prosecutions in 1979. The cartoonist was summoned to Old Street Magistrates court 18 months later, to be referred to Snaresbrook Crown Court in East London for trial.
Political commentator Martin Barker wrote that The Stormer "took delight in portraying a bomb being thrown in the faces of black people", but questioned its worth as propaganda on the grounds that only people who were already racist would find it appealing.[2] Times journalist Paul Hoggart described The Stormer as a "sick" variation of more mainstream educational comics: "Green Cross Man instils road prudence, birth-control advice for teenage girls is given in picture-strip stories, and at the sick end of the scale, a racist organization recently circulated a comic called Stormer about burning a black boy."[3]
The comic's artist, Robert Edwards, was in September 1981 put in prison for his work. He was sentenced to 12 months imprisonment for "aiding and abetting, counselling and procuring the publication of material likely to incite racial hatred". Years later he stated that "I have renounced the racist profession. I am not a fascist, not a racist, I did that years ago".[1]
Comic strips in The StormerEdit
References
Edit
↑ 1.0 1.1 1.2 Brown, P., 1994. Policy and Politics: Tory MP takes a fancy to ex-NF man's cartoons. The Guardian, 17 Feb. p.6.
↑ Barker, Martin (1984). A Haunt of Fears: The Strange History of the British Horror Comics Campaign. London: Pluto Press. p.188-9. ISBN 0-86104-751-6
↑ Hoggart, P., 1981. Why the comics still pack a punch. The Times, 30 Dec. p.9a.
Community content is available under
CC-BY-SA
unless otherwise noted.