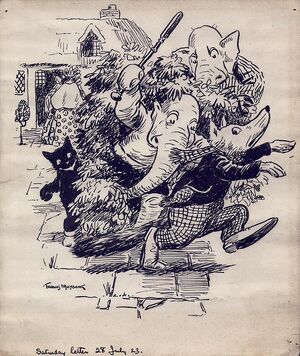 Thomas Maybank was born Hector Thomas Maybank Webb in Beckenham, Kent, in the first quarter of 1869, son of William Webb, a school board visitor, and his wife Annie, a china and glass dealer. At the age of eight he was thrown from a horse, injuring his hip. He stayed in St Thomas' Hospital for two years with the resulting bone disease.
He became a surveyor for the Borough of Croydon, and in his spare time was a musician, singing baritone and playing the piano, organ and cello. He became a full-time artist in 1902, contributing to Punch regularly until 1909. He was the original artist on Uncle Oojah, written by Flo Lancaster, in the Daily Sketch from 1921. He died in in Esher, Surrey, in the second quarter of 1929, after which H. M. Talintyre took over the strip. The endpapers he drew for the Ward Lock "Wonder Book" series were collected in a book, Mirth by Maybank, in 1937.
References
Edit
Alan Clark, Dictionary of British Comic Artists, Writers and Editors, The British Library, 1998, p. 90
Community content is available under
CC-BY-SA
unless otherwise noted.