Jurassic World: Dominion Dominates Fandom Wikis - The Loop
Play Sound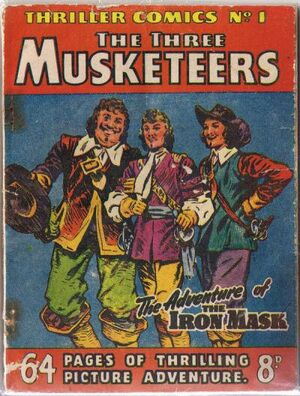 Thriller Comics (Thriller Picture Library from issue 191 onwards) was a comic which ran from 1951 to 1963. Originally coming out twice a month, it switched to weekly publication in 1955.[1] It was published originally by AP and later by Fleetway.
The first issue covered the exploits of Alexandre Dumas' Three Musketeers; the stories that followed in the comic's early years were generally similar such literary adaptations ("Treasure Island", issue 3; "The Last of the Mohicans", issue 15; "Ivanhoe'", issue 29), tales about folkloric and quasi-folkloric historical figures from British history ("Dick Turpin", issue 2; "Robin Hood", issue 4; "The Adventures of Rob Roy", issue 86) and yarns of the Old West ("Buffalo Bill and the Battle of Sun Valley", issue 100; "Strongbow the Mohawk", issue 111; "Crazy Horse", issue 123)
Stories that had been covered were sometimes given sequels, such as "The Musketeers Ride Again" in issue 26 and "Robin Hood's Peril" in issue 27. Although the tales generally focused on the boy's own tradition of swashbuckling, gunfights and other such derring-do there was the occasional anomaly, such as issue 31's adaptation of Jane Eyre.
Eventually the comic's pantheon of highwaymen, cowboys, musketeers, pirates and Lincoln green-clad outlaws faded away in favour of a set of original characters, mostly fighting in World War II. Chief amongst these was RAF pilot Battler Britton, who made his debut in issue 160 and became a regular shortly afterwards; after him came Dick Daring of the Mounties, Spy 13 (later dubbed "Spy 13 of World War II"), special agent John Steel, all-action aviator Dogfight Dixon R.F.C. and the space opera hero Jet-Ace Logan. Towards the end of its life the comic was dominated by these five characters appearing in rotation, its original protagonists d'Artagnan, Robin Hood and Dick Turpin long forgotten - although a couple more Westerns were printed at the tail end of its publication.
Amongst the writers of Thriller was Michael Moorcock, later to become a noted fantasy novelist.[2]
References
[
]
Online reference
[
]