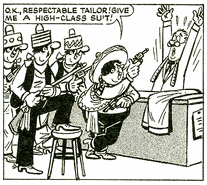 Tom Bannister (or Banister, I've found both spellings), cartoonist, was born in Danren, Lancashire, on 21 August 1923. After serving in the forces during the Second World War, he studied at Norwich Art School from 1946 to 1948. In 1952 he entered a DC Thomson art competition, and although he didn't win, his entry was noted. In 1955 Thomsons invited him to draw "Pop, Dick and Harry" for their new weekly, The Beezer, which he continued to draw until 1981. He also drew "Colonel Blink" (1958-) for the title. He also contributed to The Topper, drawing "Figaro!" (1960-), "Desert Island Dick" (1964-), "Tiny, the World's Biggest Dog" (1968-), and "Al Change" (1980-), and to the short-lived weekly Buzz, drawing "Nero and Zero" (1973, previously drawn by Allan Morley in other titles). He moved to Dundee in the 50s, and retired some time in the 80s.
References
Edit
Alan Clark, Dictionary of British Comic Artists, Writers and Editors, The British Library, 1998, pp. 8-9
Community content is available under
CC-BY-SA
unless otherwise noted.