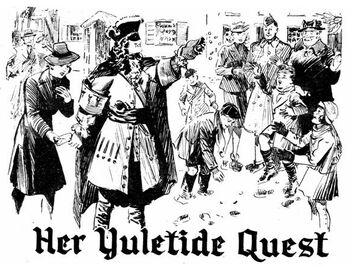 Thomas Laidler was born in Hammersmith, London, in April 1893, the son of John Joseph Morris Laidler, a commercial traveller from Gateshead, and his wife Emma Ann, née Goodley. As a teenager he was an apprentice in advertising design, and in his twenties became an illustrator. He worked for story papers including Chums, Scout, annuals for The Champion and Golden, and illustrated books for Blackie and Sheldon Press during the 1920s.
In the 1930s he worked extensively for the Amalgamated Press' girls' papers, illustrating the Cliff House stories, featuring Bessie Bunter, for The Schoolgirl, and Renee Fraser's Sally "Sunny" McAlister stories for School Friend.
After the Second World War, with fewer story papers being published, he illustrated prose serials in the Amalgamated Press' comics, starting with Knock-Out, Comet and Sun, and illustrating numerous serials for School Friend, Girl's Crystal, Princess, June and Lion throughout the 1950s, '60s and early '70s, many of them written by Ida Melbourne under pseudonyms including "E. L. Rosman". He also drew comic strips occasionally, including fifteen Buck Jones stories for Cowboy Comics, a Billy Bunter series for Knock-Out, and issues of School Friend Picture Library, School Friend Picture Library and Princess Picture Library.
He died in Windsor in January 1975, aged 82.
References
Edit
Alan Clark, Dictionary of British Comic Artists, Writers and Editors, The British Library, 1998, p. 91
Steve Holland, T. Laidler, Bear Alley, 12 January 2014
Community content is available under
CC-BY-SA
unless otherwise noted.