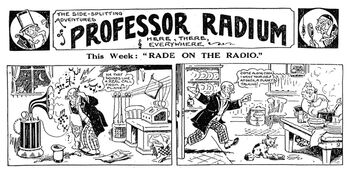 Thomas Wilkinson was born in Ambleside, Westmorland, in 1869, the son of an organ builder. He initially followed his father's trade, but by the late 1890s he was a commercial artist. His first known work in comics was "The Big Budget Kid" (1899) for The Big Budget, an obvious knock-off of R. F. Outcault's American strip The Yellow Kid. Other comics work included:
He was one of the first artists to experiment with the standard six-panel grid used in British comics, adding decorations around the edges of the panels. His sister Theresa also worked as a comics artist around this time. Despite Alan Clark's intimations, he was not related to artist Ernest or his son, editor Leslie Wilkinson.
He fell out with an editor at the Amalgamated Press who had rejected some of his work, and bought a grocery business, drawing comics only occasionally for Fred Cordwell, editor of Butterfly and other weeklies, whom he stayed on good terms with. But after the editor he had fallen out with left he returned to drawing comics regularly. Strips he drew in this second phase of his career included:
He also contributed to Horatio Bottomly's John Bull magazine, and enjoyed amateur dramatics in his spare time.
References
Edit
Alan Clarke, Dictionary of British Comic Artists, Writers and Editors, The British Library, 1998, p. 188
Denis Gifford, Encyclopedia of Comic Characters, Longman, 1987
1881, 1891, 1901 and 1911 censuses
Online reference
Edit
Community content is available under
CC-BY-SA
unless otherwise noted.