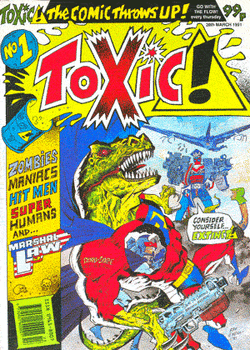 Toxic! was a full colour weekly published by Apocalypse Ltd from 28 March to 24 October 1991. It was founded by leading 2000 AD creators Pat Mills, Kevin O'Neill, Mike McMahon, John Wagner and Alan Grant as a creator owned and controlled outlet for their work. Subtitled "The comic throws up", it was a reaction against worthy, adult-oriented comics like Crisis, and had an anarchic, violent tone.
Its lead character was Mills and O'Neill's Marshall Law, previously published by Marvel's Epic imprint in the USA and a one-off special, "Kingdom of the Blind", from Apocalypse. Mills dominated the title, also creating "Accident Man" (with co-writer Tony Skinner and artist Martin Emond), about an assassin who makes his hits look like accidents; "Muto-Maniac" (with McMahon) about an outer-space Jonah who jinxes every spaceship he flies in; decadent superhero strip "Brats Bizarre" (with Skinner and Duke Mighten; and future war satire "Sex Warrior" (with Skinner and Will Simpson).
The second issue saw the launch of the love-it-or-loathe-it strip The Driver (co-written and co-drawn by David Leach and Jeremy Banx) about a man known only as, The Driver who drives a five mile-long truck full of toxic and industrial waste (including wreckage from the Challenger Shuttle disaster) through the middle of middle America on his way to fly tip it into Meteor Crater, Arizona, in the process he uses a small town as a brake. One episode of the which resulted in a visit by the local constabulary to the offices of Toxic after a complaint from a parent about Toxic containing obscene material. David Leach went on to contribute the humour/horror strip The Dinner Ladies From Hell, while Banx followed shortly after with his own, unfinished, Detrious Rex.
Wagner and Grant contributed two Bogie Man serials with artists Cam Kennedy and Robin Smith, and Grant wrote religious vigilante strip "Makabre", drawn by Enrique Alcatena, but Wagner was frozen out, the tone of his work being out of step with his colleagues. Two of his proposals, contemporary thriller "Button Man" and male pregnancy/gangster comedy "Al's Baby", ended up as creator-owned strips in 2000 AD and the Judge Dredd Megazine respectively.
The creator-owned ideal backfired when Apocalypse failed to pay creators. McMahon quit, leaving "Muto-Maniac" unfinished, and other strips were withheld by disgrunted writers and artists, and had to be replaced by filler material from Apocalypse's sister company Trident Comics. The comic folded after seven months, and Apocalypse went bankrupt soon after. One lasting effect it had was to prompt 2000 AD to go full colour.
It is not related to Toxic, a boys' magazine featuring some comic strip material, published by Egmont since September 2002.
External links
Edit
Online reference
Edit
Community content is available under
CC-BY-SA
unless otherwise noted.