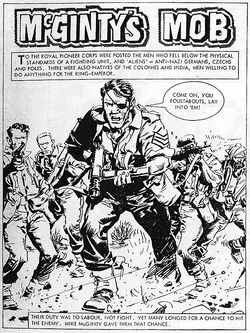 Pedro Víctor de la Fuente Sánchez was born on 12 April 1927 in Ardisana de Llanes in Asturias, northern Spain. In 1944 he joined the studio of López Rubio in Madrid, where he drew comic strips for Editorial Rialto. After the war, with opportunities drying up thanks to the popularity of American comics, he moved to Chile and worked in advertising for three years, before setting up his own art agency.
He returned to comics with a style influenced by José Salinas and Hal Foster, and created a western series, Poney Durango, which his brothers, Ramón and José Luis, found a publisher for in Spain. He founded the comic magazine El Peneca in Chile in 1957, and also drew for the American publisher Dell.
In 1960 he returned to Spain, and began working for British comics, starting with "A New Kind of Living" for Valentine in 1962. He drew numerous stories for IPC's War Picture Library and Battle Picture Library between then and 1969, and for DC Thomson's Commando from 1964 to 1972. He also drew "Blackbow the Cheyenne" (1963) and "Can You Catch a Crook?" for the Eagle, and "Trelawney of the Guards" (1966-67) for Lion and "Mask of Treachery" (1966) for Boy's World.
He continued to draw westerns for the Spanish market, although in the early 1970s he diversified into fantasy and science fiction. He also drew horror stories for Creepy and Eerie in the USA. From the late 1970s on he worked primarily in the Franco-Belgian market, collaborating with writers like Jean-Michel Charlier and Alejandro Jodorowsky in magazines like Pilote, L'echo des Savanes and Okapi.
He received the Yellow Kid Award in 1980, the Haxtur award, named after a character he created, in 1987, and the grand prize of the Salón Inrernacional del Cómic in 2006. He died on 2 July 2010, survived by his wife, Elena, and a daughter.
References
Edit
Online reference
Edit
Community content is available under
CC-BY-SA
unless otherwise noted.