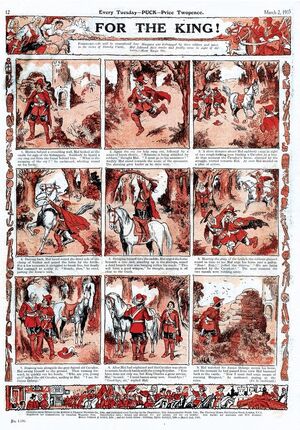 Vincent Supple Daniel was born in Kensington, London, in 1874. He studied art, and was working as an engraver around the turn of the 20th century. He turned to illustration by 1904, when he started working for the story paper Union Jack. He also worked on The Story of Jesus for Boys and Girls (1907), and the Daily Mail sixpenny novels. In 1917 he branched out into comics, drawing "Juliet the Office Girl" in The Jester. In the 20s and 30s he worked for Rainbow ("Little Crusoe", 1920), Puck ("For the King!, 1925; "Jack of the Jungle", 1925; "Pirate Gold", 1936), Lot-O'-Fun ("Will the Wanderer", 1925), Crackers ("Pirates of the Yellow Sea", 1929; "Victor's Adventures", 1930), Merry and Bright ("Tomba the Jungle Boy", 1933) and Sparkler ("Far Away From Home", 1939), Comic Life and Golden. In 1922-24 he took over the adventure strip "Rob the Rover" from its creator Walter Booth, and assisted Booth on the same strip in the 30s. He also drew "The Adventures of Captain Moonlight". His career ended when the comics business contracted during the Second World War. He died in Brentford, Middlesex, in 1945.
References
Edit
Steve Holland, Vincent S. Daniel, Bear Alley, 3 April 2009
Alan Clark, Dictionary of British Comic Artists, Writers and Editors, The British Library, 1998, p. 47
Community content is available under
CC-BY-SA
unless otherwise noted.