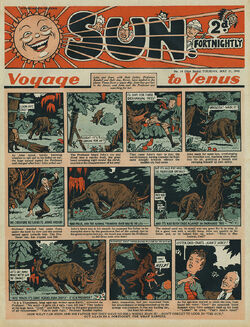 "Voyage to Venus" was a strip which ran in Sun in the forties; it had no credits beyong the signature "POS". The strip should not be confused with the "Dan Dare" story "Pilot of the Future", which is also known as "Voyage to Venus".
"Voyage to Venus" told the story of Professor Randall, who travelled to Venus in a space ship with his children John and Joan and dog Rover. Once on the planet, they had adventures in exotic surroundings inhabited by strange animals.
Community content is available under
CC-BY-SA
unless otherwise noted.