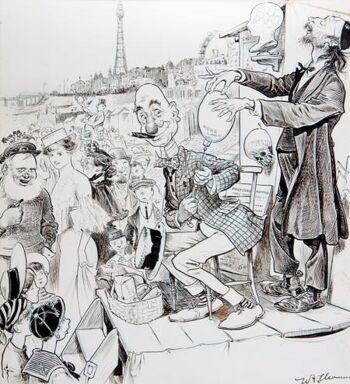 William Fletcher Thomas was born in Salford in 1862, and was educated in Halifax. He studied part time at art school, then spent a short time in Paris. On his return to England, his work was published in Random Readings and the Leeds-based magazine Toby.
In the early 1880s he contributed to Judy and Ally Sloper's Half Holiday, becoming the regular Ally Sloper artist in 1888, taking over from the late W. G. Baxter, and drawing for the weekly until it was discontinued in 1916. When it was revived for 23 weeks in 1922-23, he drew the lead strip. He also drew for Lika Joko (1894), Punch (1895), the New Budget (1890s), and Captain. He was a landscape painter on the side, and exhibited at the Royal Academy.
Some sources give him a death date in 1922, which would make the last of his Ally Sloper strips posthumous. There was a William F. Thomas who died in Wolverhampton in 1922, aged 60, which would give him the correct birth date. However, there's another William F. Thomas who died in Edmonton, Middlesex, in 1938, aged 76, who would also fit. Clark and Houfe say he lived in Southwold, Suffolk, which is over 100 miles from either location.
References
[
]
Alan Clark, Dictionary of British Comic Artists, Writers and Editors, The British Library, 1998, pp. 162-163
Simon Houfe, The Dictionary of 19th Century British Book Illustrators, Antique Collectors' Club, 1996, p. 326