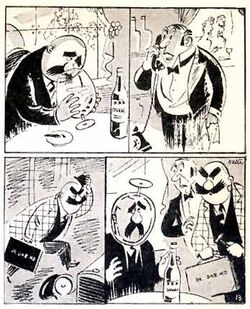 Walter Goetz was born in Cologne, Germany, on 24 November 1911 to a German-Jewish father and a French mother. After the assassination of Germany's Jewish foreign minister Walter Rathenau in 1922, his parents thought it safer to send him to England to be educated at Bedales. He studied painting in Berlin for two years, but he returned to England in 1931 and became a naturalised British citizen in 1934.
His first comic strip, Colonel Up and Mr Down, a wordless pantomime strip featuring two friends of different classes, ran in the Daily Express from 1933 into the Second World War, signed "Walter". He also drew cartoons for magazines like Vogue, Night and Day, Lilliput and Punch, and spent time in France drawing landscapes.
His was the first voice broadcast on the BBC's German Service in 1938. The government had provided for Neville Chamberlain's Munich speech to be broadcast translated into French and German, and Goetz, who had never broadcast before, was recruited at the last minute to deliver the German version, translated piecemeal from news wires. Some British listeners thought the Nazis had taken over the airwaves, and Goetz had to be smuggled out of Broadcasting House to avoid the protesters.
During the Second World War he worked for the Political Warfare Executive in the stable block of Woburn Alley, preparing leaflets to be airdropped over Germany and studying German newspapers for material for Sefton Delmer's propaganda broadcasts. Later in the war he became editor of a magazine, Cadrun, for the French section of the PWE.
After the war he created a new pantomime strip for the Daily Express, Dab and Flounder, and returned to landscape painting. He also visited Berlin and illustrated a series of articles by Alan Moorehead for the Observer on the devastation of Germany. He illustrated two books featuring Major Thompson, a caricatured English gentleman, written by Pierre Daninos and sold in France and elsewhere. He moved to France and became an art dealer, before returning to England in 1980. He was a member of the Garrick Club for many years, until encroaching deafness curtailed his social life.
He was married three times: first to Gillian Crawshay-Williams, later the wife of the Labour MP Tony Greenwood, in 1935; then to Tony Mayo in 1941; and then to Fiona Muir, whom he married in France in 1968 and by whom he had two sons. He died in London on 13 September 1995.
References
Edit
Leonard Miall, Obituary: Walter Goetz, The Independent, 23 September 1995
Denis Gifford, The History of the British Newspaper Comic Strip, Shire Publications, 1971, pp. 12-13
Online reference
Edit