Obi-Wan Finale - The Loop
Play Sound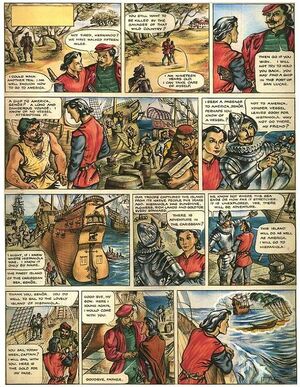 William Stobbs was born in South Shields, Tyneside, on 27 June 1914. He studied at the Durham School of Art, graduating in 1938. The following year he joined Rolls Royce as a draughtsman. After the Second World War he worked for Alvis, before joining the London School of Printing and Graphic Art as head of its design department. From 1958 to 1979 he was Principal of Maidstone College of Art.
He had a parallel career illustrating books, beginning with Ronald Syme's Hakluyt's Sea Stories in 1948. He became well-known for the historical accuracy of his illustrations for children's historical novels by authors including Henry Treece and Ronald Welch. Welch's Knight Crusader, which he illustrated in 1954, won the Library Association's Carnegie Medal for outstanding book of the year in 1955. He won the Kate Greenaway Meal in 1959 for for Kashtanka, an illustrated edition of a story by Chekhov, and Ruth Manning-Sanders' A Bundle of Ballads. In the 1980s he published a series of colour picture books, including Gregory's Dog and Gregory's Garden (both 1984) and A Frog He Would a-Wooing Go (1987).
In comics, he drew "Real Life Mysteries", a half-page factual strip, initially in black and white, later in colour, and the full-page colour biographical serial "Cortez, Conqueror of Mexico", both in the Eagle in 1950.
He married fellow illustrator Brenda Dunn in 1938, and they had two children, and later divorced. He married Joanna Stubbs in 1971, and they had six children. He died in Hawkhurst, Kent, on 6 April 2000.
References
[
]
Online reference
[
]