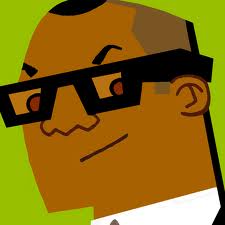 Woodrow Phoenix is a London-based comics artist and illustrator of children's picture books. He created the illustrated puzzle page "That's a Horse of a Different Colour", which ran weekly in every issue except one of The DFC, and "Donny Digits", a ten-part adventure/comedy strip that appeared in The Guardian and then partially in The DFC.[1]
He was part of the small press scene in the 1980s, self-publishing through Paul Gravett's Fast Fiction collective. He and Glenn Dakin collaborated on Sinister Romance, a humour title that ran for four issues from Harrier Comics' New Wave imprint. His strip "The Sumo Family" appeared in Escape magazine, the Independent on Sunday (1990), and Manga Mania (1991-93) magazine. He created The Liberty Cat, published in the Japanese magazine Comics Morning (1993-94). IN 1993 he and writer Gordon Rennie created the one-off comic Sherlock Holmes and the Curious Case of the Vanishing Villain, published by Atomeka Press, and contributed to Fleetway's Sonic the Comic. In 1994 he drew "Toejam and Earl" for Dark Horse UK's Max Overload.
He started a collaboration with writer Ian Carney, creating the anthology Sugar Buzz!, which ran for 9 issues from US publisher Slave Labor Graphics (1998-99), and its spin-offs The Pants Ant Trouser Hour (2001) and Where's it at Sugar Cat (2003), as well as Eager Beaver from Slab-o-Concrete Publications (1999). In 2011 he edited and contributed to the anthology graphic novel Nelson from Blank Slate Books. A trained typographer, he has also done a lot of lettering work for British and American publishers.
References
[
]
Online reference
[
]